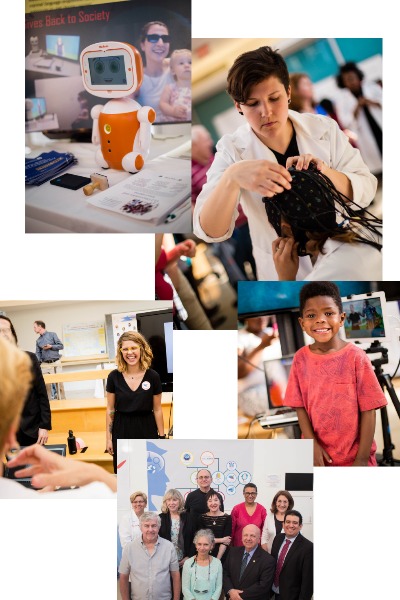 On May 8, 2018, the NSF-Gallaudet University Science of Learning Center, Visual Language and Visual Learning (VL2) hosted its Third Annual Knowledge Festival for more than 100 attendees.
Led by Dr. Laura-Ann Petitto, Co-Principal Investigator and Science Director, the theme for the event was "VL2 Science and the Learning Benefits for the Young Visual Learner."
Dr. Petitto gave the attendees an overview of the expansion of VL2, and its four hubs with funding and support from the National Science Foundation and Gallaudet University. Dr. Carol J. Erting, provost of Gallaudet University, and Roberta J. Cordano, president of Gallaudet University, shared with attendees the significance of Gallaudet University operating as a leading facility for deaf research through the work of VL2.
Over the course of the event, representatives of the four resource hubs and three laboratories: the Brain and Language Laboratory for Neuroimaging, the Early Education Literacy Lab, the Motion Light Lab, Translation in the Science of Learning Lab, Action & Brain Lab, Numeracy and Educational Neuroscience Laboratory, and Language & Educational Neuroscience Lab — as well as the new Cognitive Neuroscience Institute and Ph.D. in Educational Neuroscience were available at booths to share their latest scientific discoveries and offered opportunities for people to view products, such as the bilingual VL2 Storybook Apps, the online Visual Communication and Sign Language Checklist assessment tool, BL2 publications, research briefs and Parent Information Package.
VL2's Third Annual Knowledge Festival is an important two-way participatory event that actively engaged the involvement of the Gallaudet and Washington, D.C. communities, including governmental agencies, schools, universities, parents of deaf children, all children, and Gallaudet leaders, students and staff.
To receive additional information about any of the VL2 scientific discoveries or products, email VL2@gallaudet.edu.