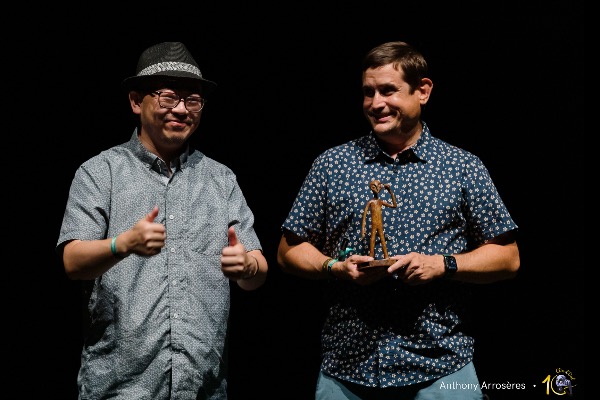 At the 2022 Clin D'Oeil Festival in Reims, France, the Motion Light Lab was awarded the Best 2D/3D Animation, for the short film Dimensions. Dimensions is an 18-minute film created using motion capture, featuring renowned deaf actors and cutting-edge animation technologies. Dimensions was created by the Motion Light Lab, under the Visual Language and Visual Learning (VL2) Center. Dimensions is funded in part by Sorenson Communications.
What: Award for Category: Best in 2D/3D Animation
Who: Dimensions Team of Motion Light Lab; award accepted by Jason Lamberton, Human-Computer Interactive Engineer, and Jianye Wang, 3D Animator
Where: Clin d'Oeil Festival June 30-July 3rd, Reims, France
Contact: sarah.miller @ gallaudet.edu
Photo credit: Anthony Arroseres
More information about Dimensions here!
Dimensions Synopsis: The main protagonist is Zoe, a Deaf woman, who is being interviewed about mysterious events pertaining to her mother's disappearance when she was a child. Through Zoe's stories, the interviewer unravels her ancestry and tries to find answers. This is the first episode of what is hopefully many.