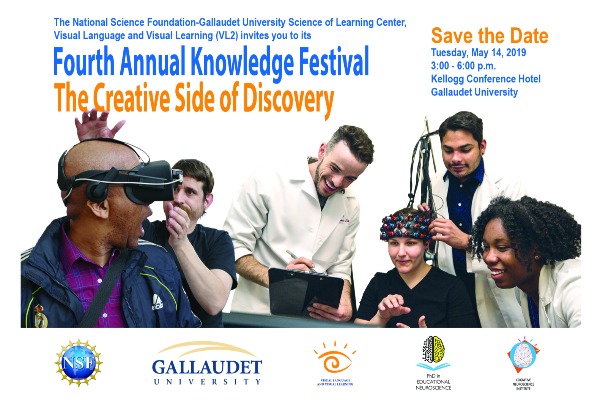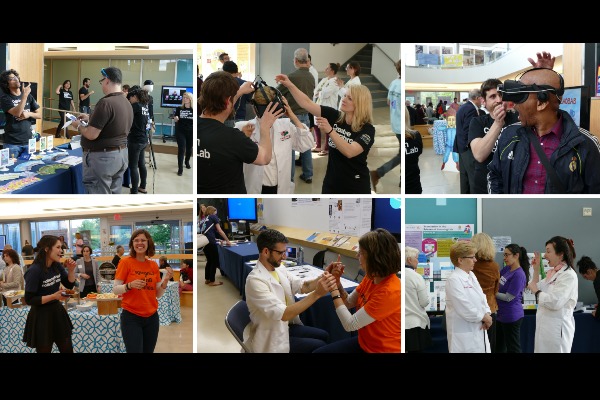 The National Science Foundation-Gallaudet University Science of Learning Center, Visual Language and Visual Learning (VL2) will host its Fourth Annual Knowledge Festival at the Kellogg Conference Hotel on Gallaudet's campus on Tuesday, May 14, 2018, 3:00 - 6:00 p.m.
The VL2 Knowledge Festival showcases the Center's scientific discoveries and transformative translation products from the entire previous year of work.
This celebratory and free event is fun and engaging for all participants and will feature the VL2 Center's four National Resource Hubs, three laboratories, pioneering Ph.D. in Educational Neuroscience (PEN) Program (including students), and new Cognitive Neuroscience Institute.
VL2's Third Annual Knowledge Festival is an important two-way participatory event that actively engages the involvement of the Gallaudet and Washington, D.C. communities, including governmental agencies, schools, universities, parents of deaf children, all children, and Gallaudet leaders, students and staff.
RSVP to the Third Annual Knowledge Festival today! Interpreters will be provided.
Refreshments will be served and tours of our new laboratory spaces will be available to all participants.