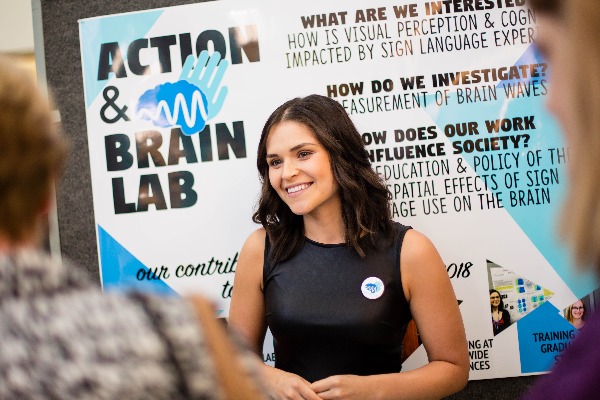 Emily Kubicek (Dr. Lorna Quandt, Advisor), a third year PhD in Educational Neuroscience (PEN) Program student, has been selected to participate in Society for Neuroscience's 2019 Early Career Policy Ambassadors Program.
ECPA is a one-year program that will allow Emily and other early career scientists to interact with leading neuroscience advocates and meet their policymakers.
The ECPA program is designed to create an extensive network of neuroscience advocates. Emily and other ambassadors gain the necessary skills to advocate for science and to encourage those in their personal networks to join the conversation.
The program kicks off at SfN's 2019 annual Capitol Hill Day, where ambassadors will engage with their members of Congress about the value of strong national investment in scientific research, including the National Institutes of Health and the National Science Foundation (NSF).
Over the course of the year, Emily will engage in at least two additional advocacy-related activities at the NSF-Gallaudet University Science of Learning Center, Visual Learning and Visual Language (VL2). (VL2 is the administration home for the Gallaudet's PEN program).
Emily works in the VL2 Action & Brain Lab (ABL) at Gallaudet University, where she uses electroencephalography to investigate the neural underpinnings of spatial cognition in signers and non-signers. Specifically, Emily's research explores how sign language experience may impact performance on mental rotation tasks.
Emily is passionate about diversity in STEM and hopes that her work both in and out of the lab will aid in creating a more accessible environment for all underrepresented groups in science. Learn more.