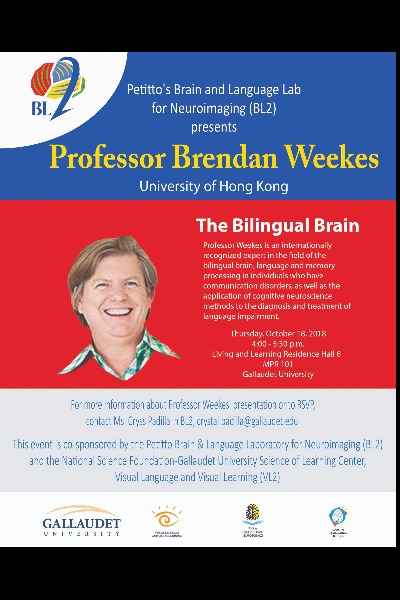 Professor Brendan Weekes (University of Hong Kong) will present "The Bilingual Brain" on Thursday, October 18, 4:00 – 5:30 pm at Gallaudet University in the Living and Learning Residence Hall 6, Room MRP 101.
The event is open to the public – RSVP today for this invaluable lecture by emailing Ms. Cryss Padilla (crystal.padilla@gallaudet.edu).
The event is co-sponsored by Petitto's Brain and Language Lab for Neuroimaging (BL2) and the National Science Foundation-Gallaudet University Science of Learning Center, Visual Language and Visual Learning (VL2).
We look forward to seeing you at this event!
About Professor Brendan Weekes
Professor Weekes is an internationally recognized expert in the field of the bilingual brain, language and memory processing in individuals who have communication disorders, as well as the application of cognitive neuroscience methods to the diagnosis and treatment of language impairment.