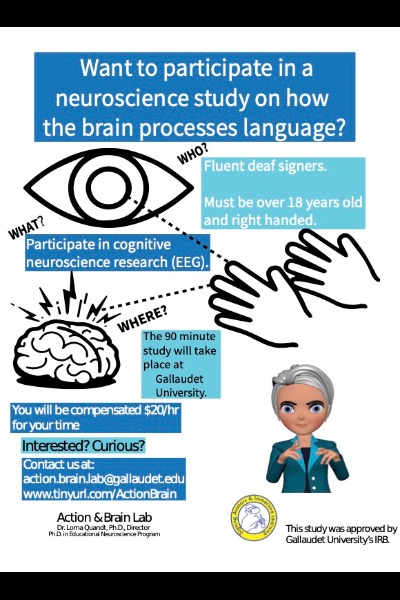 The Action & Brain Lab at Gallaudet University, directed by Dr. Lorna Quandt, is seeking participants for a cognitive neuroscience study on language processing. Our study will collect your brainwave activity (EEG) while you watch videos of different kinds of ASL signs on a computer screen.
Participation takes about an hour and a half, and you will be paid $20/hour for your time.
You may be eligible to participate if you:
Self identify as deaf and fluent in ASL
Are right-handed and have normal or corrected-to-normal vision
If you are interested in participating or would like to find out more, please email us at action.brain.lab@gallaudet.edu. You can find out more by visiting our webpage: www.tinyurl.com/actionbrainlab
[This study has been approved by the Gallaudet University IRB]
---
Flyer Text:
Want to participate in a neuroscience study on how the brain processes language?
Who? Fluent deaf signers. Must be over 18 years old and right handed.
What? Participate in cognitive neuroscience research (EEG).
Where? The 90 minute study will take place at Gallaudet University. You will be compensated $20/hr for your time.
Interested? Curious? Contact us at: action.brain.lab@gallaudet.edu www.tinyurl.com/ActionBrain
Action & Brain Lab
Dr. Lorna Quandt, Ph.D., Director
Ph.D. in Educational Neuroscience Program.
[Logo: Action & Brain Lab]
[Logo: Signing Avatars & Immersive Learning]
This study was approved by Gallaudet University's IRB.